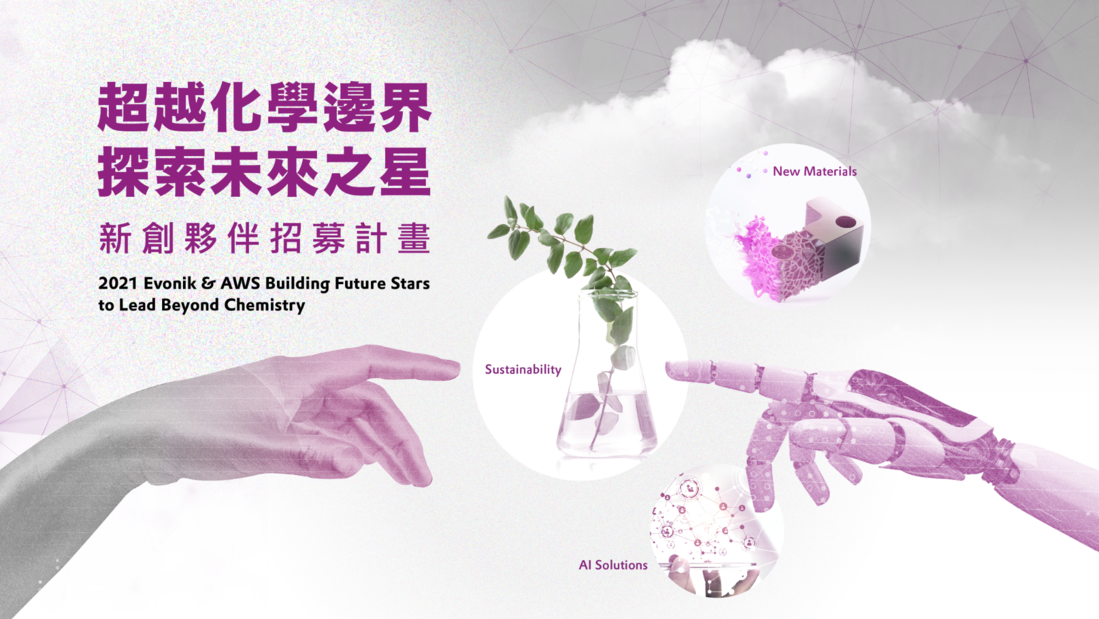 2021 Evonik & AWS Building Future Stars to Lead Beyond Chemistry
Chemical materials together with AI cloud service, Evonik & AWS launch a startup accelerator program "Building Future Stars to Lead Beyond Chemistry" to recruit startups and innovation teams to accelerate startups growth in the global market.
We sincerely invite startup teams to participate!
3 Focus Areas:
New Materials
Ranging from new material formulations, additives, processing methods, applications used in semiconductor and 5G to functional coatings, lightweight solutions, etc.
AI Solutions
Using AI to help company develop new materials, formulations or new products, or to improve intelligent inspection, increase productivity, optimize logistics or facilitate the analysis of Chinese webpages/paten documents.
Sustainability
Circular solutions for polyurethane (PU) or other engineering plastics waste, green additives, materials that help chemical recycling; green raw materials for PU or other engineering plastics synthesis, and solutions that help to reduce carbon footprint in chemical value chain.
The leading chemical company and cloud service provider offer a full range of professional support, technical guidance, media exposure as well as investment opportunities to startups.  Together, through cross-industry cooperation, we recruit talents and create new values to the market.
#Evonik #AWS #Startups recruitment
For more information, feel free to visit the official website:
Wei Kiat Tan, president of Evonik Taiwan, also shared his insight about the program with AWS and future vison and expectations to Startups.
Do not miss to follow us on Evonik Taiwan LINE Official Account ;)