2021-07-20
Evonik launches Siridion® Black, a novel high-performance material for batteries
New silicon-carbon composite material for the anode
Improves the energy density and the capacity of
lithium-ion batteries
Material now available on an industrial scale
Evonik has introduced the silicon-carbon composite material Siridion® Black as a new anode material for lithium-ion batteries.  It makes batteries more powerful by increasing energy density and improving the fast-charging capability and energy efficiency.
"The market launch of Siridion® Black marks an important milestone in the strategic development of our portfolio," said Peter Friesenhahn, Head of Evonik's Silanes Business Line.  "We are strengthening our offering in attractive, technology-driven growth markets and positioning ourselves as an innovation partner for our customers."
The introduction of the new high-performance material also completes Evonik's range of battery materials: the company already offers cathode active material and fumed metal oxides for the coating of separators.
"Until now, graphite has been used as an anode material in lithium-ion batteries, but batteries with a higher capacity need new materials that also allow faster charging," said Dr. Björn Borup, who is responsible for the marketing of battery materials in Evonik's Silanes Business Line.  "As an additive, our solution can be quickly integrated into existing anode materials and production processes, and it combines well with other battery materials."
The powder is produced by gas phase synthesis.  It consists of isolated unsintered spherical particles that are a few hundred nanometers in size.  Within the amorphous particles, the carbon concentration increases from the inside out.  This ensures superior stability.  "In addition, due to the higher carbon content on the surface, the particles are better protected against oxidation and easier to process", said Dr. Julia Lyubina, who is responsible for the development and commercialisation of Siridion® Black.
The high performance anode material was jointly developed by the Research, Development & Innovation Function and the Silanes Business Line of Evonik.  They are working on making lithium-ion batteries even more powerful in a joint project with the University of Duisburg-Essen that is being funded by the German Federal Ministry of Economic Affairs and Energy until 2023 (funding code: 03EI3027B).
"Our Siridion® Black enables customized solutions: It gives anode manufacturers and their customers the necessary flexibility to adapt their batteries exactly to their respective needs" said Lyubina.  Manufacturers of wearables or mobile devices, in particular, are likely to appreciate this design freedom.
The carbon-covered silicon is now available on an industrial scale.  It will be showcased to the public at the China International Battery Fair, which took place from March 19 to 21 in Shenzen, China where Evonik's experts were available at booth 1GT087.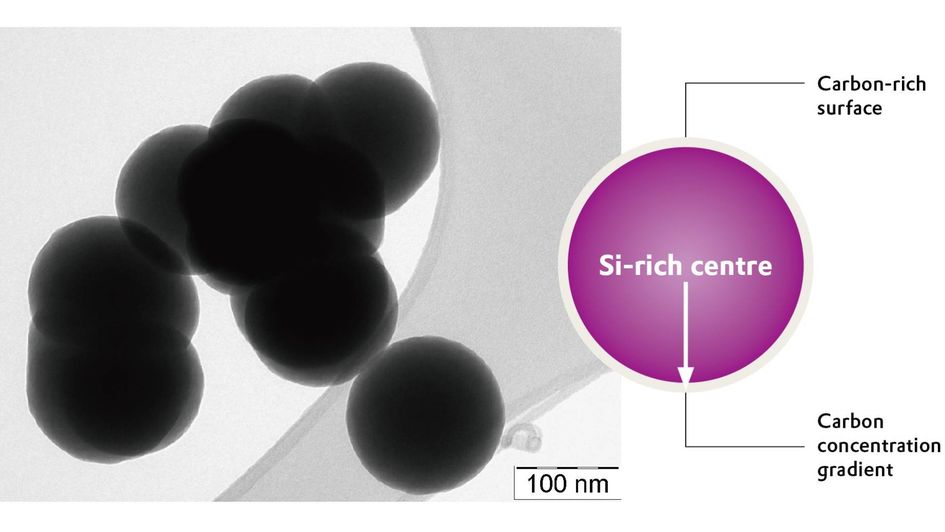 Company information
Evonik is one of the world leaders in specialty chemicals. The company is active in more than 100 countries around the world and generated sales of €12.2 billion and an operating profit (adjusted EBITDA) of €1.91 billion in 2020. Evonik goes far beyond chemistry to create innovative, profitable and sustainable solutions for customers. More than 33,000 employees work together for a common purpose: We want to improve life today and tomorrow.Asia Pacific is a strong driving force of the global economy and an important source of innovation.  Consequently Evonik endeavors to further grow its business in the region.  Sales reached €2.84 billion in 2020 and the company employs over 5,000 people at more than 50 production sites in Asia Pacific.  In Taiwan, we now employ over 200 employees which including 1 office based in Taipei and 1 production site based in Taoyuan.
About Smart Materials
The Smart Materials division includes businesses with innovative materials that enable resource-saving solutions and replace conventional materials. They are the smart answer to the major challenges of our time: environment, energy efficiency, urbanization, mobility and health. The Smart Materials division generated sales of around €3.24 billion in 2020 with about 7,900 employees.
Disclaimer
In so far as forecasts or expectations are expressed in this press release or where our statements concern the future, these forecasts, expectations or statements may involve known or unknown risks and uncertainties.  Actual results or developments may vary, depending on changes in the operating environment.  Neither Evonik Industries AG nor its group companies assume an obligation to update the forecasts, expectations or statements contained in this release.