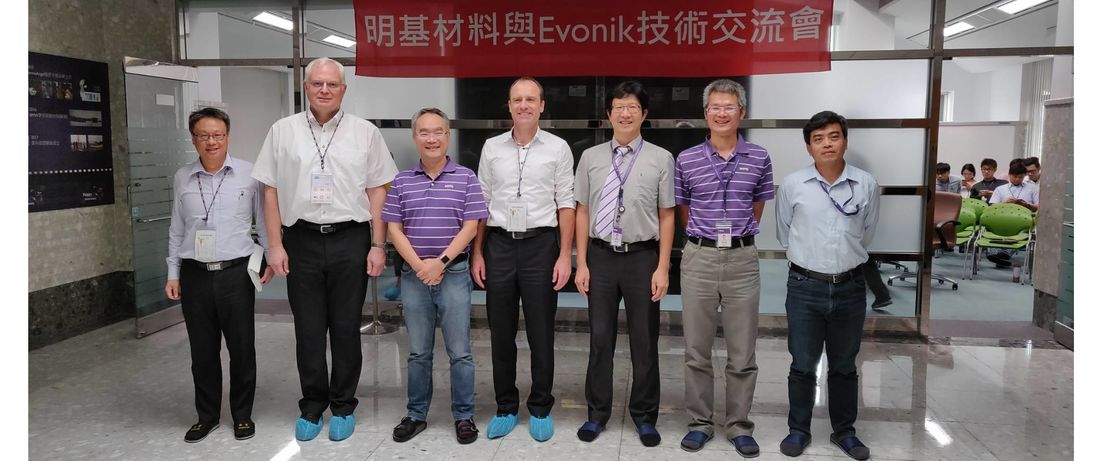 2018-08-24
BENQ INNOVATION DAY IN TAOYUAN
On August 24, Evonik Taiwan organized an Innovation Day in BenQ Materials Corperation's Taoyuan Headquarters to explore cooperation opportunities.
Dr. Z.C. Chen, Chairman of BenQ Materials Corp along with the company's President Ray Liu joined the event and welcomed the Evonik delegation. After the short and introductions, the group led by Thomas Zechel, President of Evonik Taiwan showcased a series of Evonik advanced products and solutions for High Performance Materials to BenQ researchers and engineers.
Over the Q&A session, the participants from BenQ Materials showed huge interests in Silica, Silane products, coating additives and nano-particle dispersion solutions as well as in crosslinkers, PMMA molding compounds, high performance polymers, adhesives & sealants and specialty acrylic monomers. Later in the executive meeting, both companies further discussed cooperation potentials in areas of optical films, battery components and medical care and agreed to exchange frequently and periodically in the future.
In addition, this Innovation Day also witness the debut of Evonik Taiwan's official Line@ account for better customer interaction.
Prior to BenQ Customer Day, a special QR code was provided to related participants to befriend Evonik Taiwan on the popular messaging platform/app Line@. It is then used to share agenda, collect questions of interest for meeting preparation and download presentation materials afterwards. After the event, the Line@ account sends out a survey link to the participants in which they could rate the innovation day event and leave suggestions for optimization. The overall feedback for the BenQ event was very positive.
"Growing together with our customers is at heart of Evonik team in Taiwan. We will continue to get closer to our customers, in order to understand their needs and challenges. And with tailor-made solutions, we would like to make BenQ Materials more valuable with Evonik products inside", concluded Zechel.